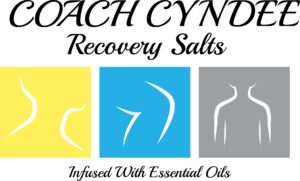 Coach Cyndee makes her own Epsom Salt and Dead Sea Salt Recovery Blends, which are uniquely blended with various essential oils to help aid in the recovery process.  Each bad is good for about 8-10 baths and costs $15 if you pick it up or $20 which will include shipping. She can make any combination of essential oils her most popular blends are:
Muscle Recovery contains essential oils of lemongrass, basil, clove, ginger, and peppermint.  Helps with muscle soreness, inflammation, strains, sprains, and good for ligaments and tendons.
Muscle Recovery With Arnica contains essential oils of peppermint, clove, ginger, orange, arnica and coconut oil.  Helps with muscle soreness, inflammation, pain relief, and good for the skin.
Soothing and Relaxing with Eucalyptus, Lavender, Tea Tree, and Lemon.  Is good for aches and pains associated with cold and flu symptoms.  Good for relaxation, sleep, as an antiseptic, muscle soreness, and skin.
You can purchase them through the paypal link below and the price will include shipping.  If you are local to the Las Vegas area you can message her to get the salts and avoid the shipping cost.