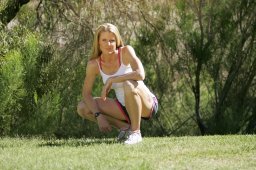 Recovery and Injury Prevention
Coach Cyndee graduated from Southern Nevada School of Massage Therapy with over 700 hours of training. She currently practices out of Jouvence Skin Care in Las Vegas and performs several types of massage and specializes in deep tissue and sport massage. Stretching can be incorporated into any massage to meet specific needs and if needed, stretch only sessions are available. Coach Cyndee is also Level 1 and Level 2 certified for Fascial Movement Taping otherwise known as Kinesio taping and can help with recovery and injury prevention.  She also got her certification for Rock Blades which is a technique that uses a tool to help improve movement and reduce tissue tightness.
Massage Techniques Performed:
Sports massage with stretching
Deep tissue massage
Swedish massage
Thai massage
Himalayan hot stone
Stretching
Rock Blades/Guasha tools
FMT Taping
Prices For Massage:
60 minute massage $70
90 minute massage $100
120 minute massage $120

Buy three or more and save:

3 or more 60 minute massages $50 each
3 or more 90 minute massages $75 each
3 or more 120 minute massages $100 each
Prices For Stretching Only
30 minutes $30
60 minute $60
90 minute $90
Prices For FM Taping
One area $10
Two areas $15
If added to any massage price is $5 for one area and $10 for two areas
In home massage is available upon request and prices may vary depending on distance and area.