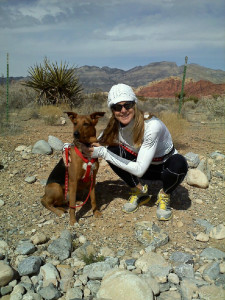 Coach Cyndee has a passion for health, fitness and pets.  Her passion is evident in her volunteer work at The Nevada SPCA.  She regularly takes many of the dogs at the shelter with her on her trainings runs. In fact they were key in helping her train for her last Ultra Marathon in February of 2014.  They were her training partners for most of her training runs and in fact accompanied her on her long training run of 24 miles.
Her latest adventure will take place on June 4th, 2017 when she will run 56 miles at the Comrades Marathon in South Africa.  She is raising money to support the Nevada SPCA.  The money she raises will go towards exercising and training the dogs at the Nevada SPCA. To donate to her cause you can go to Razoo – Run For Fido .  She hopes to raise $3,000 for the shelter.  Support her efforts to help support the dogs!
With pet obesity on a rise, she loves to teach people how to stay fit with their pet.  If you want to learn specific workouts that you can do with your dog then contact Coach Cyndee and learn how to safely workout with your pet so you both can get fit.  Prices may vary depending on the area of town you live in and they start at $65/hr.